Halloween is the perfect time of year to dress your baby as Manos from that MST3K and Rifftrax favorite, Manos: The Hands of Fate. Panda With Cookie headquarters has you covered with our Manos onesie in sizes up to 18 months.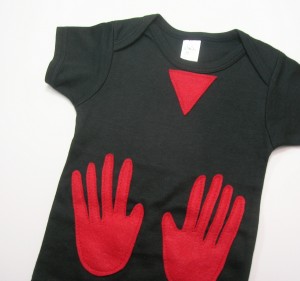 Dress yourself as Torgo with any beige clothes you have had hanging out in a corner of your basement for a few years and pop your wee one into this 100% cotton one piece. You are sure to be the hit of the office Halloween party.
I will be shipping all onesies the day after they are ordered for the rest of the month so you have time to order and get your Manos oneise in time to terrorize the neighborhood this Halloween.