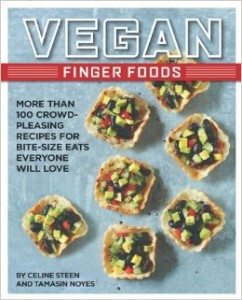 I recently got the new Vegan Finger Foods from my local public library and tried out a few dishes. The book is by the fabulous duo of Tami Noyes of Vegan Appetite and Celine Steen from Have Cake Will Travel. They are two of the nicest people I have had the pleasure of meeting through the internet.
The first recipe I tried were the buckeye balls and they don't disappoint. Buckeye balls never disappoint. These are slightly different than my usual recipe with the addition of cinnamon and it added a little something extra. I took a bunch up to my friend Amy at Herbivore and she noticed the cinnamon as soon as she tried one.  Excellent.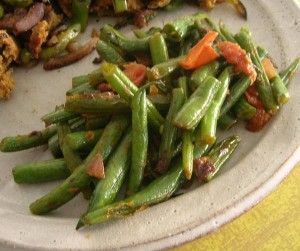 I also chose two vegetable dishes, the small plate Brussels sprouts and the green beans jalfrezi, pictured above. The Brussels were good, but I thought the green beans were the star. Next time I would add more tomato because that really made the dish for me. I'd also like to increase the saucy part to cook lentils in, because I think that would make an excellent  addition and create a one pot meal. We had leftovers and they were equally good the next day. This is the perfect season for this dish, as tomatoes and green beans are popping up in your garden or local farmers market.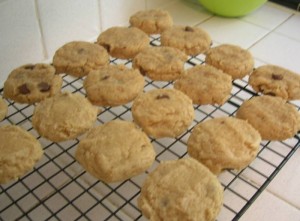 My final recipe was the chocolate orange cookies which I made for a bake sale to benefit the Out To Pasture animal sanctuary. These are good! The orange is very subtle, which I enjoyed as I don't like a heavy chocolate/fruit flavor combo. The base was quite nice and I thought they made an excellent, light summer cookie.
Vegan Finger Foods is filled with Celine's lovely photography. There are a number of dishes I would probably never make as is (panda is not cutting out cute cucumber cups to stuff) but there's no reason some can't be easily modified if you don't need a party friendly appetizer. And if you do need that fancy presentation, this book has it ready for you. There's a wait list for Vegan Finger Foods at my library so I had to return it but I'm looking forward to checking it out again and trying the corn fritters with tomato thyme sauce and more desserts. Celine has a way with cookies and panda does love cookies.
Full disclosure! This book was not provided by the publisher and I received no compensation for my review.