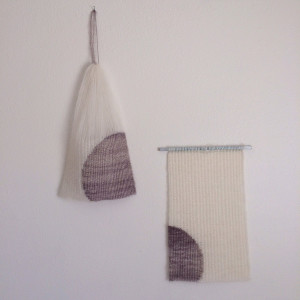 Today I wrap up my 20 Days of Handmade series! Thank to everyone for following along. I hope you've found some new favorite artisans to support.
My final post features Meghan Shimek, a textile artist based out of San Francisco, California. In addition to selling her own weaving, she has also started selling small looms and beginner kits. You can find out about classes she offers in the bay area through her website, and see what work she has available there and in stores. Weaving is another craft I have very little experience with and have always wanted to try out. Meghan's a great person, so if you have a chance to take a class with her, I highly recommend it.
My blog will be quiet for the next couple of weeks as I take a break from the holiday order rush and enjoy some time reading with my cat George. Happy Holidays y'all! And thanks for supporting handmade this year.