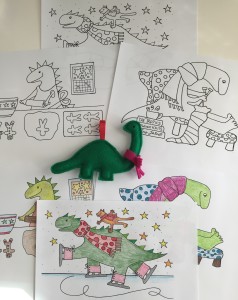 I am so thrilled to be collaborating with Carrot Condo on a Christmas card and ornament gift set this season! Trista has drawn a set of three unique dinosaur cards that you can color yourself. I've provided a brontosaurus ornament with a fetching scarf.
I met Trista last year at the Madeleine School show here in Portland and we've stayed in touch since then. This is my first time working on a set with another artist and it's been a great process. Starting a new full time job and doing a full schedule of shows this holiday season has been an overwhelming task and it's been great to meet up with Trista and work on this together to keep up my motivation and excitement.
Each set of 3 cards and 3 envelopes is packaged in a poly bag and a brontosaurus ornament is tied on with bright ribbon.  These are perfect for gift giving. Kids will love the chance to get creative and make their own Christmas card to send out to their friends and family. Buy sets to stuff in anyone's stocking. I am so excited and proud that these came together. Buy online in our shops at Panda With Cookie or Carrot Condo, in stores at all three Tender Loving Empire locations and at each craft show we'll be at in the Portland, Oregon area including Crafty Wonderland.