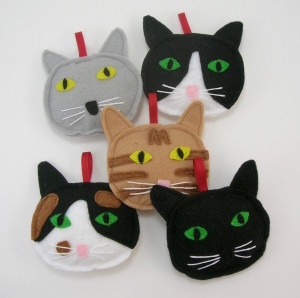 I have new cat ornaments in my shop this year for the holidays! There are a variety of colors and styles that are pre-made and ready to ship. Ginger tabbies, tuxedos, solid black, and more.
It's incredibly difficult to sell custom work at a show and I had a lot of people ask about the cat ornaments, so I decided to make some and see how they did at my holiday shows last year. They were a hit, so this year I have them online so it's easier for people to buy all the cats they need.
These make the perfect Christmas gift for friends and family. They are my number one seller and I get so many comments from people who give and receive them who enjoy pulling them out every year.
I am still doing custom cat ornaments for you as well! You can message me at pandawithcookie at gmail.com with photos of your cat to get a price quote or just follow the link to the ornament page.